New Hours of Service Change Viewpoints - 2020 Transport Industry Study
Uncovering Top Carrier Challenges Within HOS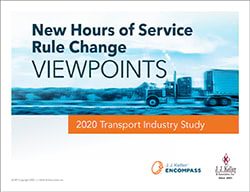 In a survey conducted by the J. J. Keller Center for Market Insights, fleets reported their top hours-of-service (HOS) challenges continue to be compliance with the ELD mandate, including:
Managing personal conveyance, yard moves, and unassigned driving events;
Compliance with DOT recordkeeping; and
The collection and maintenance of supporting documents.
The J. J. Keller survey, conducted one week before the new rule effective date, was designed to gauge fleet aptitude and preparation for new HOS rules.
Download this vital 14-page study to understand the HOS challenges that fleets have identified as significant, the areas of compliance where they need help, and how they think the new rule might benefit their operations.