DOT Audit eBook from J. J. Keller
Don't Just Prepare for a DOT Audit. Avoid It!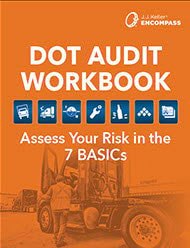 Assess your fleet's risk of a DOT audit with J. J. Keller's free DOT Audit Workbook: Assessing Your Risk in the 7 CSA BASICs.
This eBook will help you determine your fleet's regulatory risk using the FMCSA's Safety Management Cycle:
Policies and procedures
Roles and responsibilities
Qualification and hiring
Training and communication
Monitoring and tracking
Meaningful action
Each chapter explains the importance of the CSA BASIC category, followed by audit questions to help you determine if you have the appropriate safety management controls in place.
Take action today to avoid a DOT audit. Fill out the form and download your FREE DOT Audit eBook, and enjoy a complimentary discussion with a knowledgeable compliance specialist on the CSA BASIC of your choice.
Or call 855-693-5338 to speak with a compliance specialist now.