Free Whitepaper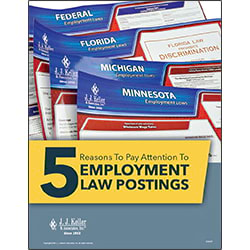 5 Reasons To Pay Attention To Employment Law Postings
Keeping up with federal, state, and local posting requirements can be frustrating and confusing. You might be wondering:
Which posters do I need?
Are they up-to-date?
How do I keep up with changes?
Even though compliance is a challenge, labor law posters are not something to neglect. Failure to display required posters can bring penalties and an increased risk of lawsuits.
Learn more about keeping posters in compliance by filling out the form and downloading your FREE 5 Reasons to Pay Attention to Labor Law Posters whitepaper..