Free Overtime Rule Whitepaper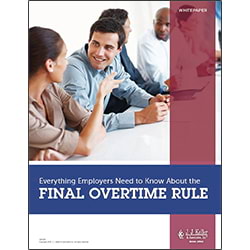 Everything Employers Need to Know About the Final Overtime Rule
For the first time in 15 years, the minimum salary that must be paid to exempt employees is increasing.
This free whitepaper explains the provisions of the new rule, who is affected and changes you may need to make to comply.
Fill out the form to download your free Final Overtime Rule whitepaper and to learn how J. J. Keller can help you comply.