Are you looking to change your ELD provider? We make it easy with our Quick Comply program:
Mandate-Compliant ELDs

Start with one truck or outfit your entire fleet.

Compatible with all vehicle classes (1–8),
4-star driver-friendly mobile app
Compatible with iPhone®, iPad®, Android™ smart devices, and the J. J. Keller® Compliance Tablet
Over-the-air updates – no hardware swapouts required
Easy installation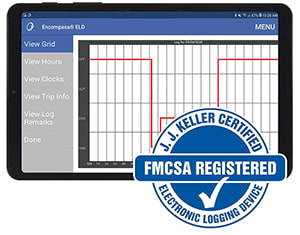 Encompass Cloud-Based System free for 60 days

Access the system currently trusted by fleets to manage over 300,000 drivers.

Free Implementation Support

Get up and running quickly with free support from a J. J. Keller implementation expert.
To learn more, fill out the form on the right and a compliance specialist will contact you. Or, give us a call at 833-708-4634.