Are you looking to change your ELD provider? We make it easy with our Quick Start program:
Mandate-Compliant ELDs

Start with one truck or outfit your entire fleet.

Compatible with all vehicle classes (1–8),
Compatible with Android™, iPhone® or iPad® smart devices and the J. J. Keller® Compliance Tablet
Over-the-air updates – no hardware swapouts required
Easy installation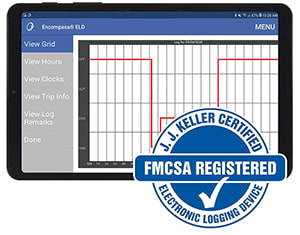 Encompass Cloud Platform free for 60 days

Access the system currently trusted by fleets to manage over 300,000 drivers.

Free Implementation Support

Get up and running quickly with 2 free hours of personal support from a J. J. Keller implementation expert.
To learn more, fill out the form on the right, and a safety & compliance specialist will contact you. Or, give us a call at 833-708-4634.