Free FMLA Whitepaper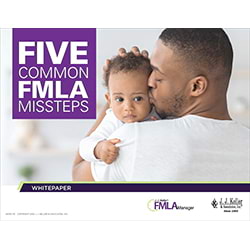 Top 5 Common FMLA Missteps
The Family and Medical Leave Act (FMLA) is often cited as one of the most challenging laws employers face, and errors can be costly. In 2021, the U.S. Department of Labor recovered $1,436,259 in back wages under the FMLA.
While few people have time to study the pages of FMLA statutes, regulations, opinion letters and court cases, everyone can learn key best practices by examining common missteps in the FMLA process.
This whitepaper covers five of the most common missteps, including:
Not recognizing leave requests
Not providing timely notices to employees
Not determining what constitutes a serious health condition
And more
Fill out the form to download your free Top 5 Common FMLA Missteps whitepaper.