Free TRI Compliance Brief & Quote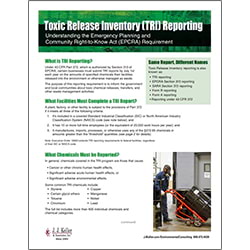 Under 40 CFR Part 372, which is authorized by Section 313 of EPCRA, certain businesses must submit TRI reports by July 1st each year on the amounts of specified chemicals their facilities released into the environment or otherwise managed as waste.
The purpose of this reporting requirement is to inform the government and local communities about toxic chemical releases, transfers, and other waste management activities.
Learn more about what facilities must complete a TRI report, what chemicals must be reported, what the TRI reporting steps are and more in this free TRI Compliance Brief. Plus, speak with a compliance specialist who can help you complete your TRI filing for you.
Fill out the form now to download your Toxic Release Inventory (TRI) Reporting Compliance Brief and request a free, no-obligation quote.