Free Human Trafficking Awareness Whitepaper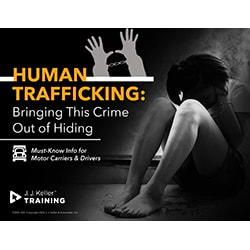 Human Trafficking: Bringing This Crime Out of Hiding
When it comes to recognizing and reporting human trafficking, a motor carrier and its professional drivers are in a unique position.
Due to the nature of their jobs, professional drivers tend to frequent the most common places where human trafficking happens, including motels, restaurants, truck stops, rest areas and gas stations.
Written by J. J. Keller Editor Heather Ness, this free whitepaper helps motor carriers and drivers understand what human trafficking is, how traffickers manipulate their victims, and the common signs that someone may be a human trafficking victim.
Fill out the form to download your FREE whitepaper.