Free Driver Inspections Whitepaper + Electronic DVIR Info
Driver Inspections: Critical Vehicle Maintenance Practices for a Safe and Compliant Operation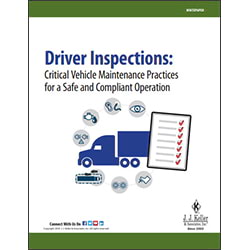 Drivers are required to conduct several inspections in the course of their work day, including:
Pretrip inspections
Enroute inspections
Post-trip Inspections
Specific inspections are conducted for different reasons, but they are all completed with one goal in mind: to keep the vehicle operating safely.
This whitepaper will walk you through the different inspections and some ongoing best practices to follow.
Fill out the form to download your free Driver Inspections whitepaper. Plus, speak with a compliance specialist to learn how you can use electronic DVIRs to easily track vehicle inspections for both regulated and non-regulated fleets.