Free Sexual Harassment Prevention Training Whitepaper
Sexual Harassment Prevention: 3 Tips for Effective Training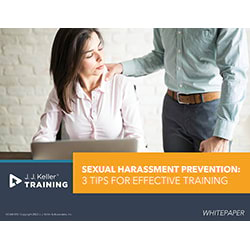 Employers paid out a record $68.2 million to those alleging sexual harassment violations through the Equal Employment Opportunity Commission (EEOC) in 2019, breaking the all-time record by more than $10 million.
Though most employers have implemented sexual harassment policies and training on the issue. If those policies and training programs were effective, logically, the number of allegations would decline significantly. Instead, they make it troublingly clear — something is not working.
Written by J. J. Keller associate editor Judy Kneiszel, the free Sexual Harassment Prevention: 3 Tips for Effective Training whitepaper explains how you can improve training effectiveness by:
Using the bystander approach
Teaching civility
Establishing and enforcing an effective policy
Fill out the form now to download your free whitepaper.