Free Tax & Registration Whitepaper + IFTA Filing Quote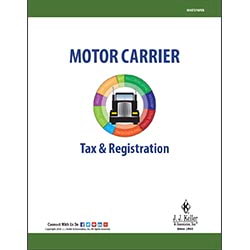 Motor Carrier Tax & Registration
Motor carrier tax and registration requirements are handled by many different agencies, both federal and state. Carriers that need tax and registration assistance are often unsure where to turn with questions.
In this whitepaper, J. J. Keller Transport Operations Editor Heather Ness covers some of the most common tax and registration requirements, including:
International Fuel Tax Agreement (IFTA)
International Registration Plan (IRP)
Heavy Vehicle Use Tax (HVUT)
State Taxes
Fill out the form to download your FREE whitepaper. Plus, get a quote from a compliance specialist to file your quarterly IFTA report for you!