Free Download and Vehicle Services Quote
Top 5 Challenges to Getting Your Regulated CMVs Road Legal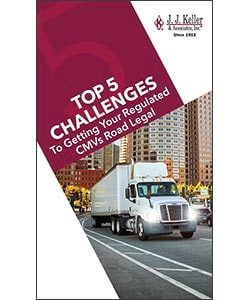 Vehicle legalization covers everything from federal registration to U.S. DOT numbers, operating authority to vehicle registration, and federal taxes to fuel taxes.
Learn more about these Top 5 Challenges:
Which agencies to work with
Which requirements apply
What options you have for compliance
Establishing a recordkeeping program
How to maintain your credentials
Fill out the form for a Vehicle Services consultation and more information on the Top 5 Challenges to Getting Your Regulated CMVs Road Legal.