Free Hazardous Chemicals Whitepaper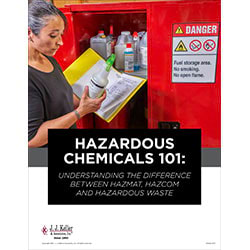 Hazardous Chemicals 101: Understanding the Difference Between Hazmat, HazCom and Hazwaste
The term "hazardous" is applied to many chemicals and raw materials. Various agencies regulate hazardous materials, and those rules change depending upon which agency is regulating them and where those products are in the production process.
Your workers may be exposed when these chemicals are shipped, received, stored, used, or disposed of.
Written by J. J. Keller Editors Rachel Krubsack, Lisa Neuberger, and Mike Atkinson, the free whitepaper Hazardous Chemicals 101 reviews some of the differences between hazmat, HazCom and hazwaste, and covers the regulations that apply to them.
Fill out the form to download your FREE whitepaper - Hazardous Chemicals 101: Understanding the Difference Between Hazmat, HazCom and Hazwaste.