Free Webcast Download
DOT Audits: What you need to know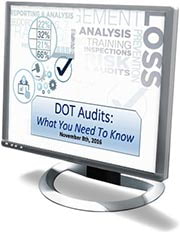 Recorded on November 8, 2016, we will discuss the different types of investigations conducted by the Federal Motor Carrier Safety Administration (FMCSA) and the regulations and processes involved in a FMCSA investigation (audit), including:
The selection process used by the Federal Motor Carrier Safety Administration to select carriers for investigation
The "six factors," including the required records used in each factor
The selection method used by the investigator when deciding which drivers and vehicles to audit
The audit scoring/carrier safety ratings
We will also discuss the latest news related to auditing, the top violations discovered during audits, and the steps necessary to be prepared for an audit.
A question and answer session is also included.
Fill out the form and click submit to download the webcast.