Free Webcast Download
Driver Qualification Town Hall: Hot Topics in DQ File Management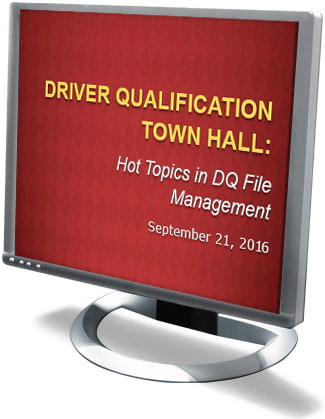 Ensuring that commercial motor vehicle drivers are fully qualified at all times can be a confusing and daunting task, but it's vital if you want to avoid the fines, penalties and liability that can result from noncompliance.
Recorded on September 21, 2016, this webcast features J. J. Keller® Transportation Safety Editors Kathy Close and Daren Hansen as they discuss the most commonly asked questions concerning driver qualification (DQ), based on the hundreds of DQ questions they receive every month.
From medical cards to MVRs and applications to road tests, they'll help you manage risk, stay in compliance and get your questions answered.
Fill out the form and click submit to download the webcast.