Free Vehicle Maintenance Whitepaper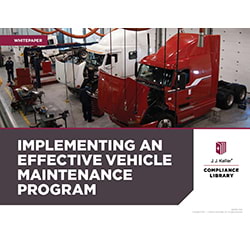 Implementing an Effective Vehicle Maintenance Program
While the FMCSA requires carriers to have a "systemic and effective maintenance program" in place, it does not specify what it must include. Ultimately, it's up to the carrier to decide how to manage and maintain its equipment — and a failure to do so could result in costly fines, breakdowns, or worse.
Written by Senior Industry Business Advisor Tom Bray, this in-depth whitepaper contains actionable insights for Implementing an Effective Vehicle Maintenance Program. It also covers a range of related topics, including:
Scheduling
Audits & Inspections
Repairs
Documentation
And more
Fill out the form below to download your FREE copy now!