Free Webcast Download
Keeping Up With The Training: General Q&A for the Safety Manager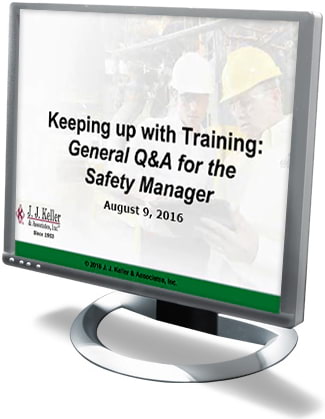 Recorded on August 9, 2016, this webcast features J. J. Keller® Workplace Safety Editors Judie Smithers and Mark Stromme as they provide a basic overview of safety training.
Safety training is a big concern, and employers have a lot of questions. Am I covering all the topics I need to address? Am I training often enough? Are our training records accurate? Are we in compliance? The list goes on.
One thing that's for certain is that OSHA is paying more and more attention to the quality of the training that's provided. The webcast, Keeping up with Training: General Q&A for the Safety Manager, focuses on your need to know about all aspects of training.
We'll draw on our experience and provide the answers to the most frequently asked questions we receive on this hot topic.
Fill out the form and click submit to download the webcast.