Free Online Training Whitepaper
Online Training: A Sound Investment in Safety, Compliance & Your Bottom Line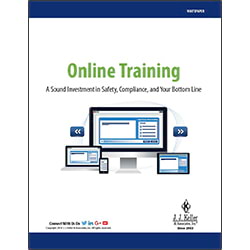 Online training (or eLearning), is one of the most rapidly-growing solutions many organizations are relying on to help fulfill their training needs. Online training enables learners to access their required training whenever, wherever it's convenient for them, as long as they have access to the internet.
This whitepaper breaks down why it is important to use online training, how your company will benefit from it, and what to look for when selecting online courses.
Switching your strategy to incorporate at least some amount of online training cannot (and will not) go unnoticed … in a very good way!
Fill out the form to download your free Online Training whitepaper.