Free Discrimination Claims Whitepaper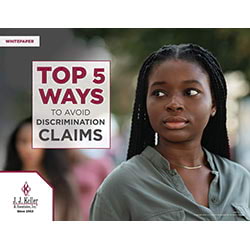 Top Five Ways to Avoid Discrimination Claims
While there's been some ebb and flow over the last two decades, discrimination charges filed with the EEOC have remained consistently high, warranting your immediate and ongoing attention.
Written by J. J. Keller's in-house HR experts, this FREE whitepaper explains why preventing workplace discrimination isn't always a simple task. It also provides employers with five real-world strategies to help them limit the risk of a claim.
Fill out the form below to download your copy of our Top 5 Ways to Avoid Discrimination Claims whitepaper!