Free Whitepaper & ELD Price Quote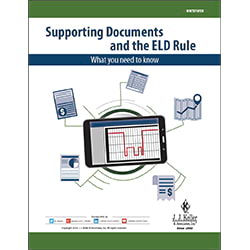 Supporting Documents & the ELD Rule: What You Need to Know
FMCSA's final rule, "Electronic Logging Devices and Hours of Service Supporting Documents", includes a new section that outlines the collection, use, and retention of supporting documents.
The agency makes it clear that supporting documents are not meant to validate drive time because ELDs will do so. However, supporting documents "are still needed to verify on-duty not driving time."
This whitepaper explains the requirement and discusses the importance of internal log auditing using supporting documents.
Fill out the form to download your free Supporting Documents & the ELD Rule whitepaper, and get a price quote for J. J. Keller's ELD system.