Free ELD Data Management Whitepaper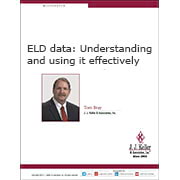 ELD data: Understanding and using it effectively
Many companies that begin using electronic logging devices (ELDs) are surprised by the volume of data that is generated.
What you will first want to do is become familiar with the data, and then find a way to review it and use it to your advantage.
This whitepaper discusses the types of data most ELD systems generate that a company should be looking at and taking action on, including:
HOS Violations
Speed
Hard Braking
Idle Time
Route selection
And more
Fill out the form to download your FREE Whitepaper - ELD data: Understanding and using it effectively.