Free Whitepaper
Transportation 101: Implementing an Effective Safety Program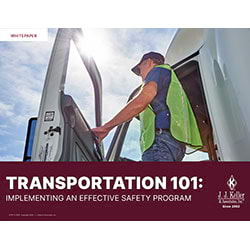 The FMCSRs are the federal regulations that set safety and operational standards for companies and individuals operating trucks, vans, buses, and other CMVs involved in interstate commerce.
These regulations require every employer to be knowledgeable of and comply with the FMCSRs. They also require every driver and employee to be instructed regarding, and to comply with, all applicable regulations.
This whitepaper talks about where this knowledge begins.
Fill out the form to download your FREE Whitepaper - Transportation 101: Implementing an Effective Safety Program whitepaper.