J. J. Keller® SAFEGEAR® Mechanics Impact Reducing Gloves
Try It Before You Buy It!
Put SAFEGEAR to the test! To get a FREE sample, simply select the item you'd like to try below, then click "Add to Cart." In the shopping cart, enter 213979 in the "Have a Promotion Code?" box. It's that easy! Limit 1 item per customer, per order. Subject to approval.
Best Selling Hand Protection
Overview
Palm padding
Impact resistant
Stretch spandex cuff
Hook & loop closure
Touchscreen capable
Breathable construction
ANSI Cut Level A1
Lime color to help identify who's wearing them
Available sizes: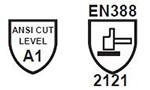 Volume Pricing
Volume Pricing
Product Code
Description
1 - 11
12 - 47
48 - 71
Higher quantities available. Pricing reflected in shopping cart or call 1-877-564-2333 to order.

59783

Large Gloves, Sold as 1 Pair

$25.14

$24.53

$23.56

59784

X-Large Gloves, Sold as 1 Pair

$25.14

$24.53

$23.56
Specification
Specification

| Product Code | Description | Glove Type | Glove Coating | Cuff Type | Abrasion Level | Cut Level | Tear Level | Puncture Level | Material Fabric | Leather Types | Glove Size | Color | Sold As | Extra Features |
| --- | --- | --- | --- | --- | --- | --- | --- | --- | --- | --- | --- | --- | --- | --- |
| 59783 | Large Gloves, Sold as 1 Pair | Cut Resistant, Impact Resistant, Abrasion Resistant, Mechanics | Uncoated | Stretch Spandex, Hook & Loop Closure | EN 388 Abrasion Level 2, ANSI Abrasion Resistance 3 | EN 388 Cut Level 1, ANSI Cut Level A1 | EN 388 Tear Level 2 | EN 388 Puncture Level 1, ANSI Puncture Resistance 2 | Polyester, Spandex, Nylon, Polyurethane, Foam Sponge, Leather | Microfiber Leather | Large | Lime/Black | 1 Pair | TPR Impact Back, Palm Padding, Touchscreen Capable |
| 59784 | X-Large Gloves, Sold as 1 Pair | Cut Resistant, Impact Resistant, Abrasion Resistant, Mechanics | Uncoated | Stretch Spandex, Hook & Loop Closure | EN 388 Abrasion Level 2, ANSI Abrasion Resistance 3 | EN 388 Cut Level 1, ANSI Cut Level A1 | EN 388 Tear Level 2 | EN 388 Puncture Level 1, ANSI Puncture Resistance 2 | Polyester, Spandex, Nylon, Polyurethane, Foam Sponge, Leather | Microfiber Leather | X-Large | Lime/Black | 1 Pair | Touchscreen Capable, TPR Impact Back, Palm Padding |