Interested in learning more about this service? Call
833-708-4633

to talk with a compliance specialist today!
DOT Diagnostic Audit & Assessment
A best practice approach that goes beyond a traditional audit.
Read more.
Get unparalleled insight into your safety and compliance performance—including any risks you may face—with the J. J. Keller® DOT Diagnostic Audit & Assessment. Through this service, we'll perform an objective, on-site, third-party audit of over 550 safety and compliance areas.
Based on the results of that proprietary evaluation, you will receive an overall J. J. Keller® Performance Rating. This will allow your company to:
Ensure compliance
Improve CSA scores
Mitigate serious risk
Increase profitability
Reduce accidents & liabilities
Adopt industry best practices
Control insurance premiums
Gain a competitive advantage
Lastly, you'll receive a detailed, proprietary report of our findings that can help you prioritize your work to minimize your risk exposure.
Overall Benefits
How you'll benefit from a third-party audit: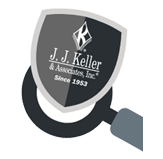 Objective Evaluation
Obtain objective evaluation of what your safety & compliance performance is today, what it needs to be, and what it will take to get you where you want to be.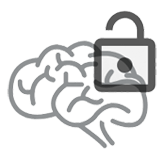 Access to Expertise
Leverage industry knowledge and experience that you may not have in-house.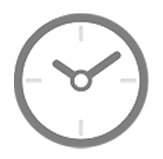 Big Time Savings
Know where to focus your time and attention.
How The Service Works
We conduct a 3rd party independent review of your compliance and safety operations to create a diagnostic assessment using four key areas.
Scores from your diagnostic assessment will then feed your company's overall J. J. Keller® Performance Rating (the key indicator of the effectiveness of your safety & compliance program).
The four key areas include:
Compliance Audit
Vehicle Maintenance
Accident Management
Driver Logging
Hazmat Handling
Drug & Alcohol Program Management
Driver Qualification File Management
Safety Management Assessment
Policies & Procedures
Roles & Responsibilities
Qualification & Hiring
Training & Communication
Monitoring & Tracking
Meaningful Action
CSA Performance Review
Crash Indicator
Driver Fitness
Hazardous Materials Compliance
Hours of Service Compliance
Vehicle Maintenance
Unsafe Driving
Controlled Substances & Alcohol
Best Practice Evaluation
Current Best Practice Review
Recommended Implementation of Industry-Wide Best Practices
Watch this video to learn more about the DOT Diagnostic Audit & Assessment Services:
93.8% of clients feel that our consulting services have positively impacted their organization.
Performance Rating & Methodology
During the audit and assessment, a J. J. Keller Advisor will score your fleet in over 550 areas. Those scores will then be compiled into a J. J. Keller Performance Rating, which measures your risk exposure and performance against other fleets, your other locations and your future progress.
Fleets will also be given a complete report of their diagnostic audit and assessment, details of the individual scores, recommendations for making short- and long-term improvements, and the guidance of J. J. Keller's regulatory specialists.
Our team of regulatory specialists will work with you onsite to:
Define objectives
Prioritize actions
Design solutions
Audit & assess fleet performance
Implement solutions
Measure and monitor results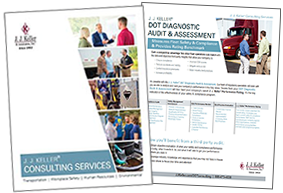 Free Consulting Services Resources
Learn more about J. J. Keller's Consulting Services, where we can help protect your company, reduce your risk and improve your safety & compliance.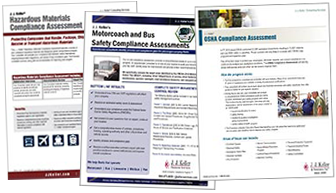 Free Assessment Overviews
Learn about the other types of assessments J. J. Keller offers.
Product Questions & Answers