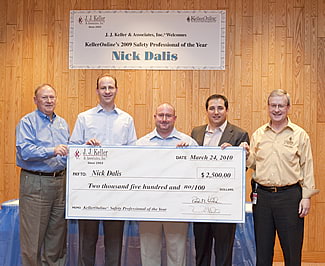 Nick Dalis
2009 Safety Professional of the Year
J. J. Keller & Associates, Inc. honored Nick Dalis, Director of Safety for Joseph J. Albanese, Inc., as the 2009 Safety Professional of the Year (SPOTY) on March 24, 2010 in a ceremony held at the J. J. Keller headquarters. This event marked the 8th annual presentation of one of the most sought after awards in the industry and recognizes individuals for their accomplishments in creating and implementing unique safety programs within their organizations.
Joseph J. Albanese, Inc. is a full service, self-performing concrete contractor specializing in all aspects of site construction. The success of the company, much like the construction industry as a whole, is directly tied to their safety record. When Dalis took over as Safety Director in 2001, the company's recordable injury rate was 24.4. Through the commitment of company leadership, his growing team of safety coordinators, and himself, the company's recordable injury rate was reduced to 4.1 in 2009 – an 83% improvement over 8 years. Other notable improvements in key safety metrics include decreasing the company's ex-mod by 42% and decreasing lost time accidents by nearly 96% - all while increasing man hours worked by over 80% from 2004 to 2008. These significant improvements have played a significant role in the company's overall growth and success.
Dalis did not want people to call him only if there was a problem – he wanted to be approachable in order to help gain buy in and participation in the company's safety programs. He said, "I knew we had crossed a major hurdle about four and a half years ago when superintendents and foremen started coming to me as a resource – they were calling me to check out job sites that they felt there might be a safety issue with versus calling me after someone got injured."
Nick Dalis, 2009 KellerOnline Safety Professional of the Year Award WinnerDuring the award ceremony, Dalis was quick to point out that his success is directly related to those around him. He said, "I'm the one steering the ship while everyone else rows. We could not be successful if there was no buy in and participation in our safety programs. I can easily make the comparison to myself, the safety director, to a football referee – as long as I am doing my job then nobody is talking about me. People only talk about the referees when they make a bad call.
Kevin Albanese, Chief Operating Officer for Joseph J. Albanese, Inc., said, "Our executive team remains committed to supporting Nick's efforts to keep our workers safe and are extremely proud to have him as part of the team at Joseph J. Albanese, Inc."
Dalis received a $2,500 cash award during the special ceremony, along with a plaque, certificate, and one year's use of KellerOnline for himself and his coworkers.
Back to SPOTY Award Winners Page