Proposed legislation would expand truck parking
Posted December 6, 2022
Legislation introduced in the U.S. Senate would provide $755 million over the next four years to expand truck parking across the country.
The bipartisan Truck Parking Safety Improvement Act was announced on Dec. 1, 2022. It would empower the U.S. Department of Transportation (DOT) to issue competitive grants to both construct new parking areas and expand parking at existing facilities like weigh stations and rest areas. Funds may also be used to improve driver safety at parking facilities.
A companion bill had been advancing in the U.S. House of Representatives earlier this year but has not yet received a full floor vote. Both bills say Congress considers the parking shortage to be a national priority.
"A lack of accessible and reliable truck parking makes our roads less safe. Our bipartisan legislation will expand freight truck parking to ensure that truck drivers can safely and efficiently move the goods that support our nation's economy and supply chains," said Senator Mark Kelly (D-AZ), who co-sponsored the legislation along with Senator Cynthia Lummis (R-WY).
A DOT study found that 98 percent of truck drivers regularly experience difficulty finding safe parking. The American Transportation Research Institute found that truck drivers waste nearly an hour of available driving time per day due to lack of parking.
This article was written by Daren Hansen of J. J. Keller & Associates, Inc.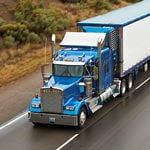 Looking for more on transportation safety?
Get the information and products you need to stay on top of industry changes and comply with regs.