OSHA deputy assistant secretary provides rulemaking updates
Posted December 4, 2018
In a recent address to the International Safety Equipment Association, Loren Sweatt, Deputy Assistant Secretary of Labor for OSHA, provided a number of rulemaking updates.
Beryllium: The revisions OSHA proposes in its upcoming Notice of Proposed Rulemaking (NPRM) are designed to clarify the standard or to simplify compliance. The NPRM is expected to be published in December.
Respirator Fit Testing: OSHA is in the process of issuing a final rule regarding two additional quantitative fit testing (QNFT) protocols for inclusion in Appendix A of the Respiratory Protection Standard. These protocols will apply to employers in general industry, shipyard employment, and the construction industry, and will serve as alternatives to the four existing protocols already listed in Appendix A. The rule does not impose any new requirements on employers, and employers will not need to update or replace their current fit test method if it meets existing standards.
The final rule is listed on the Fall Regulatory Agenda for publication by the end of 2018.
Telecommunication Towers: OSHA currently is considering feedback from the Small Business Advocacy Review Panel (SFBRA) as it evaluates potential rulemaking options. In the meantime, Sweatt said, employers can help mitigate the hazards facing telecom tower workers by ensuring they are able to take adequate rest breaks; have access to water, shade, and weather-appropriate clothing; have enough time to safely complete a job when scheduling projects; and use tool lanyards to prevent tools from falling to lower levels.
Injury and Illness Recordkeeping: OSHA will continue to collect 2017 forms until December 31, 2018, but submissions received after July 1, 2018, will be flagged as "late." OSHA will begin collection of 2018 Form 300A data on January 2, 2019. The deadline for submitting these data is March 2, 2019. Sweatt noted this is much earlier than the last two years.
In July, OSHA published an NPRM to amend the recordkeeping regulation to remove the requirements for submission of Forms 300 and 301. That comment period closed in September 2018. The deadline for submitting the forms for 2017 was July 1, 2018. Sweatt said OSHA will not enforce the deadline for these two forms, without further notice, while the rulemaking is underway.
---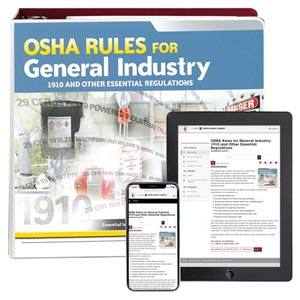 OSHA Rules for General Industry: 1910 and Other Essential Regulations puts OSHA's workplace safety regulations in a reader-friendly format.
---
J. J. Keller's FREE Workplace SafetyClicks™ email newsletter brings quick-read workplace safety and compliance news right to your email box.