OSHA and BLS trying to reduce duplication of electronic injury reporting
Posted December 10, 2018
If your establishment has been submitting injury and illness information to both the Bureau of Labor Statistics (BLS) and OSHA, you'll be pleased to know the two agencies are working together to explore technological solutions to reduce duplicative burden, including changes to the collection systems for both surveys and the possibility of data sharing from OSHA to BLS.
For its part, the BLS is proposing to collect OSHA assigned establishment identification numbers on a voluntary basis from Survey of Occupational Injuries and Illnesses (SOII) internet respondents required to submit data to both OSHA and BLS. The BLS says this number will be used to improve matching OSHA and BLS data.
At the same time, OSHA has proposed adding the employer identification number (EIN) to the information that many employers must electronically submit to that agency each year. OSHA says this would increase the likelihood that BLS would be able to match OSHA-collected data to the BLS SOII. (The final rule is projected to be published in June 2019.)
Currently, around 240,000 establishments are selected each year for the BLS's mandatory survey. Many of these same employers also are required to electronically submit summary information to OSHA using that agency's system. It would be a win for employers if the two agencies can figure out a way to reduce duplication of effort, something employers and industry groups have been pushing for since OSHA created its reporting system a couple of years ago.
About the SOII
The SOII is the primary indicator of the nation's progress in providing safe and healthful working conditions. The survey measures the overall rate of work injuries and illnesses by industry. In addition, survey data are used to evaluate the effectiveness of federal and state programs and to prioritize resources. Respondents include employers who maintain related records (i.e., the OSHA Forms 300, 301, and 300A), as well as employers who are normally exempt from such recordkeeping. Each year a sample of exempt employers is required to keep records and participate in the BLS survey.
About the OSHA e-reporting requirement
Each year, establishments with 250 or more employees that are currently required to keep OSHA injury and illness records, and establishments with 20-249 employees that are classified in certain industries with historically high rates of occupational injuries and illnesses, must submit summary information (from the Form 300A) electronically to OSHA. Unlike the BLS survey, covered employers are not notified they are required to submit their injury/illness information, but, rather, must self-determine based on size and industry.
This article was written by Travis Rhoden of J. J. Keller & Associates, Inc.
---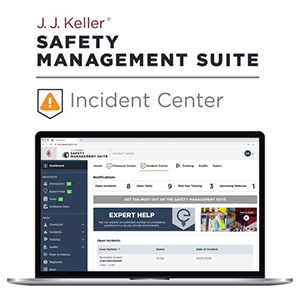 J. J. Keller's Incident Center helps you simplify your OSHA recordkeeping and analyze, report, manage, and prevent workplace incidents.
---
J. J. Keller's FREE Workplace SafetyClicks™ email newsletter brings quick-read workplace safety and compliance news right to your email box.