EEOC removes wellness incentives rules
Posted December 22, 2018
The Equal Employment Opportunity Commission (EEOC) has formally removed the wellness incentive provisions from the Americans with Disabilities Act (ADA) and Genetic Information Nondiscrimination Act (GINA) rules. Only the wellness incentive provisions were nixed. The rest of the EEOC rules on wellness programs under the ADA and GINA remain effective.
The incentive rules became effective in 2017, but soon came under fire with a lawsuit that resulted in a court order requiring the EEOC to revisit them. The case, AARP v. EEOC, led to an opinion that the rules were arbitrary and capricious; that the incentives or penalties of up to 30 percent rendered related group health plan coverage involuntary. In order for a wellness program to be voluntary, employers must not request too much medical information. Wellness programs often include requirements to provide some medical information, such as through health risk assessments. The court indicated that the EEOC did not provide a good enough explanation regarding the 30 percent limit and how it affected the voluntariness of the coverage.
In light of the case, the EEOC originally intended to issue subsequent proposed rules but, instead, allowed the rules to be vacated as scheduled as of January 1, 2019, and they will now be officially removed from the books as of that date. The EEOC is, however, expected to reconsider wellness incentive limits in the near future.
Without the rules, however, employers are left with less guidance on how much of an incentive they may use in wellness programs. Considering this, employers may choose to follow the ADA rules, but since they have already been challenged, the risks are obvious. They could follow the HIPAA/ACA rules (which remain in effect), or even determine their own definition of "voluntary." But they must be careful not to set the limit so high that the decision to provide medical information is no longer voluntary. They could also choose to not have any incentive limit, which is likely the safest route.
This article was written by Darlene M. Clabault, SHRM-CP, PHR, CLMS, of J. J. Keller & Associates, Inc.
---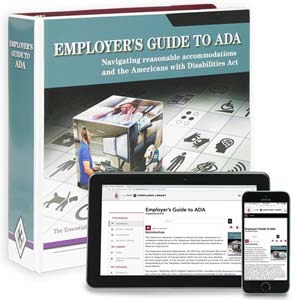 J. J. Keller's Employers Guide to ADA Manual helps you navigate the often-murky waters of the Americans with Disabilities Act (ADA).
---
J. J. Keller's FREE HRClicks™ email newsletter brings quick-read workplace safety and compliance news right to your email box.