FMCSA to study the trucking industry's perception of ADS technologies
Posted November 5, 2020
A proposed study hopes to help answer the question of how trucking companies can integrate automated driving systems (ADS) into a mixed-fleet operation.
The Federal Motor Carrier Safety Administration (FMCSA) is seeking information from truck industry representatives regarding their opinions and perception of ADS before and after hands-on demonstrations with the technologies.
The proposed study "Trucking Fleet Concept of Operations (CONOPS) for Managing Mixed Fleets" will use a questionnaire to assess the self-reports of approximately 2,000 survey respondents, including commercial motor vehicle (CMV) fleet managers, CMV sales personnel, state and federal government personnel, industry engineers, researchers, and CMV drivers.
Why a study?
The introduction of ADS technology on heavy trucks will have a major impact on all commerce since more than 70 percent of all goods in the United States move by truck.
Many stakeholders in the supply chain are unsure how to implement ADS into their operations. The survey focuses on the development and demonstration of a CONOPS for ADS-equipped trucks, which FMCSA hopes to translate directly to real-world settings.
How will the study work?
The proposed survey would include a series of outreach events. The events will:
Offer the public, with a focus on truck drivers and truck fleet managers, the opportunity to meet ADS technology developers and original equipment manufacturers.
Provide opportunities to participate in hands-on technology demonstrations, such as in-vehicle demonstrations and closed-course scenarios.
Collect invaluable qualitative data on the participants' opinions and perceptions regarding ADS that will be used to ensure the CONOPS covers major industry concerns.
The roadshows will coincide with large conferences, such as the Technology Maintenance Council (TMC) Annual Meeting, North American Commercial Vehicle Show, SAE COMVEC, and Automated Vehicle Symposium.
A pre-roadshow questionnaire will gather baseline opinions regarding ADS technologies. After the hands-on demonstrations at the roadshow, FMCSA will see if participants' opinions on the technologies changed using a post-roadshow questionnaire.
How to submit comments on the study
Stakeholders may comment on any aspect of this information collection request. Comments must be received on or before January 4, 2021.
When submitting comments, make sure you identify the information collection as Federal Docket Management System (FDMS) Docket Number FMCSA-2020-0203.
For more information on submitting comments, visit regulations.gov.
This article was written by Kathy Close of J. J. Keller & Associates, Inc.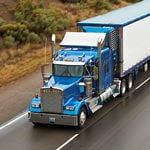 Looking for more on transportation safety?
Get the information and products you need to stay on top of industry changes and comply with regs.