Supreme Court: ADEA applies to all public employers
Posted November 9, 2018
On November 6, the U.S. Supreme Court ruled that the Age Discrimination in Employment Act of 1967 (ADEA) applies to public entities no matter how many employees they have.
The case revolved around two firefighters who were laid off due to budget constraints. The two, however, were the oldest firefighters (46 and 54 years old). The two employees filed suit, alleging that the fire district, a political subdivision in Arizona, terminated them in violation of the ADEA. The fire district responded that it was too small to qualify as an "employer" under the ADEA; that it did not have the requisite number of employees.
In its unanimous decision, the High Court held that, initially, both Title VII of the Civil Rights Act of 1964 and the ADEA applied solely to private sector employers. In 1974, Congress amended the ADEA to cover state and local governments. A previous, 1972 amendment to Title VII added states and their subdivisions to the definition of "person[s]," specifying that those entities are engaged in an industry affecting commerce.
The Title VII amendment thus subjected states and their subdivisions to liability only if they had a threshold number of workers, currently 15. By contrast, the 1974 ADEA amendment added state and local governments directly to the definition of "employer." The same 1974 enactment also amended the Fair Labor Standards Act (FLSA), on which many aspects of the ADEA are based, to reach all government employers regardless of their size.
Therefore, according to the ruling, the construction of the text of the law is to be read that the ADEA applies to private employers with 20 or more employees, and all government employers, regardless of their size.
The verbiage of the law reads as follows:
"The term 'employer' means a person engaged in an industry affecting commerce who has twenty or more employees…. The term also means (1) any agent of such a person, and (2) a State or political subdivision of a State…."
Because the text involves two sentences, they are to be read as separate, meaning that any state or political subdivision is covered; not only those with 20 or more employees.
The decision resolves a split in the circuit courts, with the Sixth, Seventh, Eighth, and Tenth Circuits, holding that the ADEA requires public employers to have 20 or more employees to apply, and the Ninth Circuit, which held that they did not.
In light of this decision, public entities should review their policies and practices regarding age discrimination. Training affected employees, such as supervisors and managers, can also help avoid a claim.
Mount Lemmon Fire District v. Guido et al., No. 17-587 (Nov. 6, 2018).
This article was written by Darlene M. Clabault, SHRM-CP, PHR, CLMS, of J. J. Keller & Associates, Inc.
---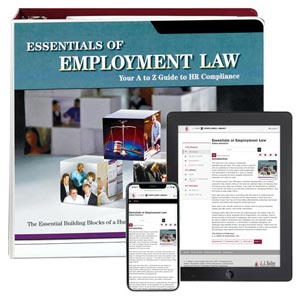 J. J. Keller's Essentials of Employment Law Manual covers more than 100 vital HR topics, including FMLA, ADA, HIPAA, FLSA, COBRA and more.
---
J. J. Keller's FREE HRClicks™ email newsletter brings quick-read human resources-related news right to your email inbox.