Increased harassment claims helped keep EEOC busy in 2018
Posted November 19, 2018
The #MeToo movement was one of the underlying factors that caused an increase in harassment claims to the Equal Employment Opportunity Commission (EEOC), which enforces workplace discrimination laws.
The agency released its 2018 fiscal year report in November, and it was not surprising that sexual harassment claims jumped. The EEOC recovered nearly $70 million for the victims of sexual harassment through administrative enforcement and litigation in fiscal year 2018, up from $47.5 million in fiscal year 2017. There was also a 13.6 percent increase in charge receipts alleging sexual harassment in fiscal year 2018, and the amount of monetary benefits recovered for victims of sexual harassment increased by 22 percent.
For all types of discrimination, the EEOC received over 554,000 calls and emails and handled over 200,000 inquiries concerning potential discrimination claims of all types. The launch of nationwide online inquiry and appointment systems as part of the EEOC's Public Portal resulted in a 30 percent increase in inquiries and over 40,000 intake interviews.
During its fiscal year, which ended September 30, the EEOC secured $505 million for victims of discrimination in private, state and local government, and federal workplaces, including:
$354 million through mediation, conciliation, and settlements;
$53.5 million through litigation; and
$98.6 million for federal employees and applicants in hearings and appeals.
In FY 2017, the agency secured $355.6 million in monetary benefits, not including benefits obtained through litigation.
The EEOC ramped up its enforcement activities to hold workplace leaders and supervisors accountable for all types of discrimination. This significantly increased the number of harassment lawsuits filed and on two occasions the EEOC coordinated litigation filings in multiple federal district courts around the country covering workers in a variety of industries.
With a few clicks, individuals can submit inquiries through the EEOC's public portal. An inquiry can be a first step toward filing a claim, as it allows the EEOC to evaluate the claimant's information and provide advice on what the agency can do to assist, including help with filing a charge of discrimination, if appropriate.
Training, including bystander training, is a proven tool used to help reduce the risk of a discrimination claim. Just having a policy and just doing training, however, isn't enough of a defense; you need to be able to show that the training is effective and employees feel safe reporting issues. Given the potentially public nature of such situations, employers who fail to take steps to avoid claims could risk more than the time and resources needed to defend their actions, as a company's brand could suffer.
This article was written by Darlene M. Clabault, SHRM-CP, PHR, CLMS, of J.J. Keller & Associates, Inc.
---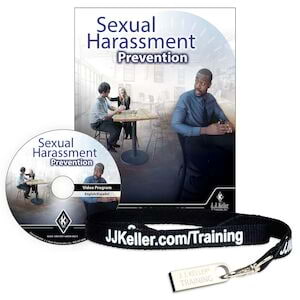 J. J. Keller's Sexual Harassment Prevention Training helps all employees—including bystanders—address unwanted and unlawful sexual harassment in the workplace and learn how to respond if an incident does occur.
---
J. J. Keller's FREE HRClicks™ email newsletter brings quick-read human resources-related news right to your email inbox.