Judge orders pizza restaurant to pay damages for gender discrimination in wages
Posted November 22, 2017
A federal district judge in Kansas recently entered judgment in favor of the U.S. Equal Employment Opportunity Commission (EEOC) in a lawsuit alleging violation of the Equal Pay Act. The individuals involved had been offered jobs, but had not yet started working, illustrating how the law can protect applicants as well as employees.
According to the EEOC's lawsuit filed in September 2017, two high school friends, a male and a female, applied to work at the pizza restaurant in 2016. After both were interviewed and offered jobs, the two discussed their starting wages. Upon learning that the male was offered 25 cents more per hour, the female employee called the restaurant to complain about the unequal pay. When she did so, the company immediately withdrew its offers of employment from both employees.
The Equal Pay Act prohibits companies from paying women and men unequally and retaliating against those who complain about or support a claim of unequal pay. The judge ordered awards to both individuals of back pay for lost wages as well as liquidated, compensatory, and punitive damages.
Although the parent company no longer operates a restaurant in Kansas City, Kansas, it still owns and operates other restaurants nationwide. Therefore, the order also requires it to implement significant policy changes, conduct training, collect and analyze pay and other data, and report data and complaints to the EEOC, each in order to prevent future violations of the law.
---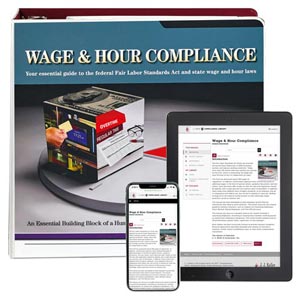 J. J. Keller's Wage and Hour Compliance with FLSA Manual provides critical info to help you comply with the Fair Labor Standards Act (FLSA) and state wage and hour laws.
---
J. J. Keller's FREE HRClicks™ email newsletter brings quick-read human resources-related news right to your email inbox.