2020 Chemical Data Reporting period closing soon
Posted October 15, 2020
The Chemical Data Reporting (CDR) submission period is set to close on November 30, 2020, having been open since June 1, 2020.
The original reporting deadline of September 30 was extended on a one-time approval to provide the reporting community additional time to become familiar with changes to reporting requirements and the reporting tool.
Earlier this year EPA hosted three webinars which covered the reporting updates. Recordings and content from those events are still available on the EPA CDR program webpage. The webpage also hosts several guidance documents and case studies that can help covered entities understand their reporting responsibilities.
Covered entities must report data electronically using e-CDRweb, the CDR web-based reporting tool.
This article was written by Laura Verity of J. J. Keller & Associates, Inc.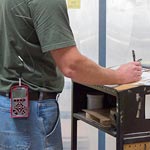 Looking for more on workplace safety?
Get the information and products you need to stay on top of industry changes and comply with regs.