Food manufacturer faces huge penalty after worker's death
Posted September 21, 2023
An Illinois pizza manufacturer faces $2.81 million in penalties after a 29-year-old worker died when her head was caught in a spiral conveyor. OSHA inspectors found that the temporary worker had not received the proper training to operate the machinery. Before this latest incident, two other workers suffered amputations at the facility.
OSHA Assistant Secretary Doug Parker said, "This tragedy took the life of a young woman, and forever changes the lives of her family, friends, and co-workers. Employers have a responsibility to train workers in the language they understand so they know how to perform their work safely."
OSHA cited the pizza manufacturer for 17 willful-serious and 12 serious violations. Some of the hazards identified include:
Deficient lockout/tagout procedures,
Lack of adequate machine guards,
Electrical and fall risks, and
Inadequate protective equipment.
In addition to the penalties, the company was placed in OSHA's Severe Violator Enforcement Program and will be subject to mandatory follow-up inspections.
This article was written by Carmen King of J. J. Keller & Associates, Inc.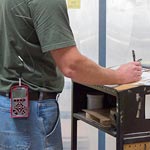 Looking for more on workplace safety?
Get the information and products you need to stay on top of industry changes and comply with regs.