UCR enrollment for 2022 opens October 1st
Posted September 10, 2021
The Unified Carrier Registration (UCR) enrollment period for 2022 begins October 1, 2021 and lasts through December 31, 2021.
Who is subject?
Private property carriers, for-hire passenger, property, and exempt commodity carriers, freight forwarders, leasing companies, and brokers engaged in interstate commerce are subject to annual registration under the UCR program.
Carriers based in and/or operating in non-participating states are required to register with UCR; the UCR application form provides guidelines for selecting a base state.
Carriers domiciled in Canada or Mexico operating in the United States are also subject to UCR registration.
If your company is subject to UCR, you must register annually with your base state and pay an annual fee based on the size of your fleet. Interstate businesses located in non-participating states are still subject to UCR.
What are the registration fees?
The fees for the 2022 registration year remain the same as 2021, and are as follows:
| | |
| --- | --- |
| Number of commercial motor vehicles owned or operated | Fee |
| 0–2 | $59 |
| 3–5 | $176 |
| 6–20 | $351 |
| 21–100 | $1,224 |
| 101–1,000 | $5,835 |
| 1,001 and above | $56,977 |
Where do you register?
The UCR Board of Directors has established a National UCR System at ucr.gov. All UCR registrants may use this official online system, regardless of base state, and it is the recommended method to register.
J. J. Keller's UCR filing service is also available at www.jjkeller.com/ucr.
How is UCR enforced?
While no UCR credential is issued, enforcement is accomplished through online data checks and various types of audits. This is where consequences can begin if your registration and fees are not up to date.
Each UCR participating state is free to impose what penalties it sees fit for noncompliance with the requirements of the program, and many of those are significant. Examples include:
States denying your vehicle registration until you complete UCR registration. This is particularly true in states where the International Registration Plan (IRP) is combined with the UCR program by a single agency.
The UCR audit program using states' IRP records to highlight discrepancies between the number of vehicles you registered under IRP and the size of the fleet you declared for UCR. A carrier that underpays its UCR fees will be treated as if it's not registered. This status appears on the public portion of FMCSA's website and subjects the carrier to enforcement actions.
Enforcement officials at all levels accessing databases of the FMCSA to check whether an entity associated with a particular DOT number has a current UCR registration. That check can be carried out at roadside during a traffic stop, as well as in other settings.
Finally, states imposing penalties for perjury for falsely completing the UCR registration form.
This article was written by Kathy Close of J. J. Keller & Associates, Inc.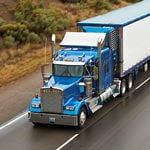 Looking for more on transportation safety?
Get the information and products you need to stay on top of industry changes and comply with regs.