Are you on OFCCP's updated list for a compliance evaluation?
Posted September 12, 2018
The Office of Federal Contract Compliance Programs (OFCCP), mailed 750 Corporate Scheduling Announcement Letters (CSAL) to contractor establishments on September 7, 2018, as a supplement to its earlier list released on March 19, 2018.
The CSAL is notification to an establishment that has been selected to undergo a compliance evaluation once it receives OFCCP's OMB approved scheduling letter. It is not, however, a letter scheduling a compliance evaluation. The purposes of the CSAL are to:
Provide the contractor establishment's internal EEO staff at least 45–days advance notice to prepare for the compliance review; and,
Encourage contractors to take advantage of OFCCP compliance assistance offerings.
After receiving one of the latest OMB approved scheduling letters, contractors will have the standard 30 days to submit their Affirmative Action Program (AAP). As a result, all contractors on the current list are receiving a minimum of 75 days advance notice to have the AAP ready. OFCCP will also grant a one-time 30-day extension for supporting data where AAPs are provided timely.
The supplemental list includes 445 companies, 69 Corporate Management Compliance Evaluations (CMCEs), and 66 Functional Affirmative Action Program (FAAP) units. If, however, you received a CSAL, concluded a review, or concluded progress report monitoring resulting from a conciliation agreement or consent decree, within the last five years, you would not be included on this new list.
OFCCP mails a CSAL to the Human Resources Director (or designated point of contact) of each establishment on the scheduling list. To help determine if you are on the list, you may confirm whether an establishment was mailed a CSAL by e-mailing a written request on company letterhead to the Division of Program Operations at OFCCP-DPO-Scheduling@dol.gov.
This article was written by Darlene M. Clabault, SHRM-CP, PHR, CLMS, of J. J. Keller & Associates.
---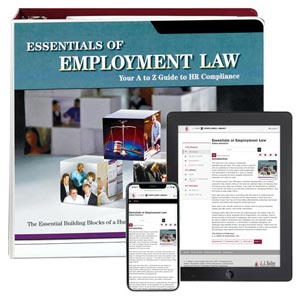 J. J. Keller's Essentials of Employment Law Manual covers more than 100 vital HR topics, including FMLA, ADA, HIPAA, FLSA, COBRA and more.
---
J. J. Keller's FREE HRClicks™ email newsletter brings quick-read human resources-related news right to your email inbox.