Wildfires impacting Canadian tucking industry
Posted August 25, 2023
The wildfires impacting parts of Canada have caused problems for supply chains. These Canadian fires have made it hard to move things around because of the disruption to roads and railways. Important highways and routes that trucks use have been impacted and even closed due to the fires.
When natural disasters happen, they can cause challenges for motor carriers. The wildfires impact the Canadian trucking industry by:
Disrupting roads that are essential for moving goods and people across the country. Closed highways and truck routes are causing delays and shortages.
Damaging buildings and goods that were stored or transported by trucks. Some warehouses and distribution centers have been destroyed or affected by the fires, resulting in losses and disruptions.
Causing transport congestion in major ports and terminals, and delays in unloading and in getting cargo through the port for export due to the impact of the wildfires on rail lines.
Damaged and closed roads, delays, and detours on major trucking routes make it very difficult to move things from one place to another.
HOS exemptions
Transport Canada has issued hours of service (HOS) exemptions to support efforts by extra-provincial truck/bus undertakings and their drivers to transport essential supplies and equipment in direct assistance to the emergency relief efforts in response to the wildfires in BC, Alberta, Yukon, and Northwest Territories.
Proactive planning and communication are essential to effectively dealing with wildfires in a supply chain. Ensuring that strategies and plans are in place when natural disasters happen can mitigate any disruptions that may occur when the time comes.
What should the industry do next?
The trucking industry can respond to these disruptions by:
Applying for HOS exemptions to assist in the emergency response to wildfires in affected areas,
Being patient and flexible while crews work to clear the roads and railways from debris and fire hazards, and
Coordinating logistical support to assist the Canadian Red Cross and other relief organizations in delivering supplies and aid to the evacuees and firefighters.
This article was written by Mark Samber of J. J. Keller & Associates, Inc.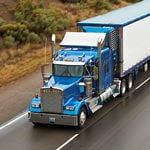 Looking for more on transportation safety?
Get the information and products you need to stay on top of industry changes and comply with regs.