Second OSHA region launches enforcement initiative for transportation tank cleaning operations
Posted August 6, 2021
Effective August 2, OSHA Region V launched an enforcement initiative to target transportation tank cleaning operations in Wisconsin, Ohio, and Illinois for the private sector, and federal work in Michigan, Minnesota, and Indiana. The Regional Emphasis Program (REP) will focus on employers in industries typically engaged in tank cleaning activities, including trucking, rail and road transportation, remediation services, material recovery, and waste management services.
The initial phase of the REP will include informational mailings to employers, professional associations, local safety councils, apprenticeship programs, local hospitals and occupational health clinics, as well as presentations by OSHA to industry organizations and stakeholders. Following its three-month outreach, the program empowers OSHA to schedule and inspect targeted industries in Illinois, Ohio, and Wisconsin and those under federal jurisdiction in Indiana, Michigan, and Minnesota.
OSHA encourages industry employers to take steps to identify, reduce, and eliminate hazards related to confined spaces and implement noise safety strategies during the REP's initial phase. The agency urges employers to use its free consultation services for advice on complying with OSHA standards.
This article was written by Rachel Krubsack of J. J. Keller & Associates, Inc.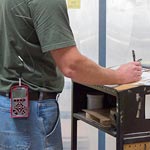 Looking for more on workplace safety?
Get the information and products you need to stay on top of industry changes and comply with regs.