ATRI seeks responses for 2019 Top Industry Issues Survey
Posted August 5, 2019
Trucking industry stakeholders are encouraged to participate in the American Transportation Research Institute's (ATRI) 2019 Top Industry Issues Survey.
The annual survey ranks the top issues of concern for the industry and discusses appropriate strategies to address each issue.
This is the 15th year of the survey, which ranks the issues overall and includes details on where topics are ranked differently by motor carriers and drivers.
The results of the survey will be released in early October. Responses will be accepted through September 20, 2019.
Driver shortage has been ranked as the top issue facing the industry the last two years. Hours of service ranked second last year.
The survey can be completed at ATRI's website.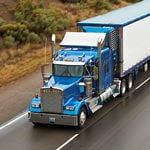 Looking for more on transportation safety?
Get the information and products you need to stay on top of industry changes and comply with regs.