Study links workplace exposures to increased risk of rheumatoid arthritis
Posted August 15, 2017
Certain jobs are linked to an increased risk of developing rheumatoid arthritis, according to findings published in the August 10 edition of the journal Arthritis Care & Research. The data suggests that factors in the workplace, such as noxious airborne particles, may contribute to the condition. Researchers say more information is needed to identify the specific exposures involved, but likely suspects include silica, asbestos, organic solvents, and motor exhaust.
To look for a link between environmental factors and the development of rheumatoid arthritis, a team of researchers from the Karolinska Institutet in Sweden analyzed information from a Swedish population-based study on the disease. The data revealed that male workers in the manufacturing industry were at a higher risk of developing rheumatoid arthritis than professional, administrative, and technical workers. Further, within the manufacturing sector, male electrical and electronics workers and material handling operators were at twice the risk of the condition than the professional and administrative workers. Bricklayers and concrete workers were at three times the risk.
The researchers found women in the manufacturing sector did not have the same risk as their male counterparts, but said this might be explained by the relatively small number of women who work in manufacturing when compared to men. However, women assistant nurses and attendants had a slightly higher risk of rheumatoid arthritis.
In their analysis, researchers also considered participants' lifestyle-related risk factors such as smoking, use of alcohol, education level, and body mass index. Even with these lifestyle factors, the researchers say work-related exposures, such as harmful airborne agents, are indicated as risk factors to developing rheumatoid arthritis.
---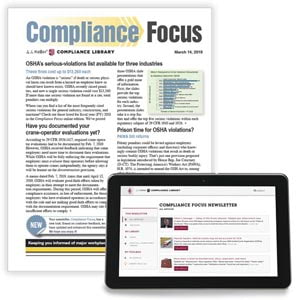 J. J. Keller's Compliance Focus helps you stay on top of critical regulatory developments from: DOT, OSHA, EPA, DOL, MSHA, EEOC, DHS and other agencies.
---
J. J. Keller's FREE Workplace SafetyClicks™ email newsletter brings quick-read workplace safety and compliance news right to your email box.