Former safety manager admits to falsifying applications for operating authority
Posted August 23, 2017
A former safety manager of a passenger carrier admitted to her role in a chameleon carrier scheme.
She acknowledged that she made false statements on forms required by the Federal Motor Carrier Safety Administration (FMCSA) to obtain operating authority. In March 2016, she was indicted – along with 14 other individuals – for her role in the ruse. On August 15, 2017, she pled guilty to conspiracy charges in U.S. District Court, Harrisburg, PA.
The safety manager and other defendants supposedly formed, controlled, managed, and operated numerous suspect bus companies. According to the indictment, the defendants routinely falsified FMCSA Motor Carrier Identification Reports and applications for FMCSA operating authority.
In an attempt to conceal who operated the companies and poor safety records, the conspirators incorporated new companies in Pennsylvania. They misrepresented where the companies where headquartered, maintained, and garaged. They indicated they were in Pennsylvania when they actually operated in New York City.
By falsely representing their company's location, the defendants were able to obtain operating authority, licenses, stickers, and other authority, indicating that the buses met federal and state safety standards. They also received significantly lower insurance costs based on the Pennsylvania location.
In addition, the defendants allegedly falsified FMCSA recordkeeping to impede agency inspections and reviews. The fraudulent companies falsified records relating to:
Driver safety and training programs,
Accident registers,
Hours of service,
Vehicle maintenance, and
DOT drug and alcohol testing programs.
The defendants were also accused of false statements in regard to previous company affiliations and associations.
---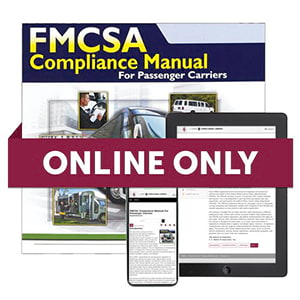 J. J. Keller's FMCSA Compliance Manual For Passenger Carriers provides comprehensive information regarding FMCSRs specific to passenger-carrying vehicles.
---
J. J. Keller's FREE Transportation SafetyClicks™ email newsletter brings quick-read safety and compliance news right to your email box.