OSHA publishes new compliance directive for excavation standard
Posted July 9, 2021
OSHA has published a new compliance directive for its excavation standard that provides current information and guidance to its National, Regional, and Area Offices concerning the agency's policy and procedures for conducting excavation inspections, and for the enforcement of 1926, Subpart P – Excavation.
Significant changes include:
Addition of Inspection Guidance and Citation Policy for specific provisions in 29 CFR 1926, Subpart P;
Addition of general inspection procedures;
Inclusion of 29 CFR 1926, Subpart P standard interpretations; and
Insertion of hyperlinks to referenced OSHA documents.
The directive supersedes OSHA Instruction CPL 02-00-087, Inspection Procedures for Enforcing the Excavation Standards - 29 CFR 1926, Subpart P, issued February 20, 1990.
This article was written by Rachel Krubsack of J. J. Keller & Associates, Inc.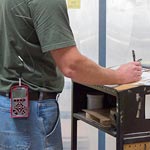 Looking for more on workplace safety?
Get the information and products you need to stay on top of industry changes and comply with regs.