FMCSA proposes rule changes for vehicle safety technologies
Posted July 9, 2021
On Tuesday, July 6, 2021, Federal Motor Carrier Safety Administration (FMCSA) proposed to change the rules for windshield-mounted cameras in commercial motor vehicles (CMVs). The proposed changes would make filing for an exemption and prior company-specific exemptions (including J.J. Keller and Associates, Inc.) unnecessary. Interested parties must comment by August 5, 2021. A request from Daimler Trucks North America prompted the proposal.
The changes would define vehicle safety technology as "fleet-related incident management systems, performance or behavior management systems, speed management systems, lane departure warning systems, forward collision warning or mitigation systems, active cruise control systems, transponder, brake warning systems, automatic emergency braking, driver camera systems, attention assist warnings, Global Positioning Systems, and traffic sign recognition systems."
If accepted as proposed, carriers could install the devices on the interior of windshields of CMVs:
Not more than 216 mm (8.5 inches instead of 4 inches) below the upper edge of the area swept by the windshield wipers; or
Not more than 175 mm (7 inches) above the lower edge of the area swept by the windshield wipers; and
Outside of the driver's sightlines to the road and highway signs and signals.
FMCSA proposed adding certain vehicle safety technologies to accommodate vehicle manufacturers' advancements in driver assistance technologies. Also added were GPS units, which drivers often mount to the dashboard.
This article was written by Mark Schedler of J. J. Keller & Associates, Inc.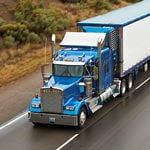 Looking for more on transportation safety?
Get the information and products you need to stay on top of industry changes and comply with regs.