Bill would provide paid leave for pregnancy loss
Posted July 30, 2021
On July 20, members of Congress introduced the Support Through Loss Act (HB 4576), a first-of-its kind bill that would require employers with five or more employees to provide at least three days (24 hours) of paid leave in a calendar year for employees to process and address health needs following:
A pregnancy loss;
An unsuccessful assisted reproductive technology procedure;
A failed adoption arrangement;
A failed surrogacy arrangement; or
A medical diagnosis or event that impacts pregnancy or fertility.
The leave could also be taken to care for a spouse or domestic partner who experiences such a circumstance.
Other provisions of the bill include the following:
Employees would be granted the three days every calendar year but would not carry over from year to year.
Employers would be prohibited from requiring employees to find a replacement to cover the hours used as paid leave under the law.
Employees would need to provide notice as soon as practicable, and it would include the expected duration of the leave.
Employee handbooks would need to include information regarding the law, and a new poster would need to be put up in the workplace.
Employees and others would have a right of action against employers for violations.
According to the American College of Obstetricians and Gynecologists, while often underreported, pregnancy loss is a common occurrence. It is estimated that miscarriage occurs in 10 percent of known pregnancies. The bill also includes provisions for raising awareness, providing information and resources about pregnancy loss, as well as funding into related research.
Friends, no need to start taking any action because of this bill at this time. It is just a reminder that lawmakers still have employee leave in mind. The chances that this particular bill will become enacted is slim at best at this time.
This article was written by Darlene Clabault of J. J. Keller & Associates, Inc.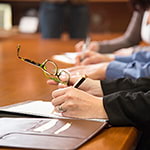 Looking for more on HR compliance?
Get the information and products you need to stay on top of industry changes and comply with regs.