FMCSA seeks information about crimes against women, minority truckers
Posted July 25, 2019
The Federal Motor Carrier Safety Administration (FMCSA) is seeking information about crimes against women and minority truckers to learn more about the seriousness of the issue.
FMCSA said that it has accumulated documentary and anecdotal evidence over the years of serious patterns of harassment- and assault-related crimes against female and minority truckers.
A 2006 Security Journal article titled "Workplace Violence against Female Long-Haul Truckers" reported that 42 percent of female long-haul truckers experienced at least one type of workplace violence. A 2017 USA Today article titled "Rigged" gave accounts of repeated harassment of minority male truckers.
FMCSA does not provide materials or training to any truckers on how to protect themselves from being stalked, harassed, assaulted, or robbed.
Part of the research will include an anonymous survey of truck drivers to gather information.
A maximum of 440 males and 440 females will be selected to participate in an online survey and in-person interviews. A $25 incentive will be given to eligible respondents to the in-person interview or the online survey. Eligible drivers must report that they are a female or a minority male who has driven a truck professionally in the past two years.
FMCSA will accept comments through September 23, 2019, through the federal eRulemaking portal at regulations.gov, under Docket No. FMCSA-2018-0278.
---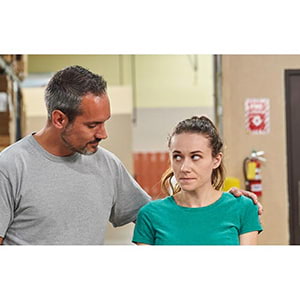 J. J. Keller's Sexual Harassment Prevention Training helps all employees—including bystanders—address unwanted and unlawful sexual harassment in the workplace and learn how to respond if an incident does occur.
---
J. J. Keller's FREE Transport SafetyClicks™ email newsletter brings quick-read safety and compliance news right to your email box.