Paid family medical leave coming to Massachusetts
Posted July 2, 2018
Riding the wave of state leave provisions, Massachusetts Governor Charlie Baker signed "Grand Bargain" legislation that includes a requirement for employers to provide paid family medical leave to their employees. The bill also includes an increase in the state's minimum wage.
Paid family medical leave
Beginning July 1, 2019, employers with 25 or more employees will contribute to a 0.63 percent payroll tax of each employee's wages, split roughly 50-50 between employees and employers. Employers with fewer than 25 workers will not be required to contribute, but employees will. Employees will be entitled to begin taking the leave January 1, 2021.
The measure creates a Department of Family & Medical Leave, which is to set up a trust fund for employer contributions. Weekly benefit amounts will be calculated as a percentage of the employee's average weekly wage, with a maximum weekly benefit of $850. The law includes a seven-day waiting period for benefits.
The family medical leave program will entitle employees to take paid leave for up to 12 weeks a year to care for a family member or bond with a new child, 20 weeks a year to deal with a personal medical issue, and up to 26 weeks to deal with an emergency related to deployment of a family member for military service. Employees may not take more than 26 weeks, in the aggregate, of family and medical leave in the same year. The leave may run concurrently with the federal FMLA as long as the employee is eligible for both and the reason qualifies for both.
Like the federal FMLA, during leave, employers must continue employees' health insurance coverage. Employees will be entitled to be returned to their positions or an equivalent one.
Employers will be required to display a paid family leave poster. It will need to be in English and the primary language of five or more employees, if the department makes a notice available in that language. Employers must also provide new hires with information on the law, and obtain a written acknowledgement of receipt of the information
Minimum wage
The bill will also gradually raise the state's minimum wage to $15/hour over five years, with an initial increase taking effect in January 2019. Coupled with that increase will be a raise to the minimum base wage rate for tipped workers, up to $6.75, that will also phase in over a five-year period beginning in January of 2019. Premium pay for those who work on Sundays and holidays will be eliminated.
These revisions will also bring a posting change to the state's Wage and Hour Laws poster, which includes a section on minimum wage.
This article was written by Darlene M. Clabault, SHRM-CP, PHR, CLMS, of J. J. Keller & Associates, Inc.
---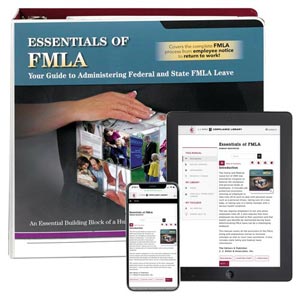 J. J. Keller's Essentials of FMLA manual helps HR pros understand and comply with the FMLA rules, control costs related to leave taken, and minimize the law's potential disruption to their organizations' operations.
---
J. J. Keller's FREE HRClicks™ email newsletter brings quick-read human resources-related news right to your email inbox.