OSHA explains how to use the 300 Log to look for trends
Posted July 18, 2018
Did you know that OSHA does not call workplace injuries and illnesses "accidents"? Instead, the Agency refers to them as "incidents." As OSHA explains in its recent guidance, "That was no accident," most workplace injuries and illnesses don't "just happen"; instead, they are usually predictable and preventable. OSHA says this word choice reflects a larger shift toward prevention.
The new publication is part of OSHA's ramp up for Safe Sound Week, to be observed August 13-19, 2018. It describes how to use the OSHA 300 Log to identify injury and illness trends to identify existing hazards and correct them to prevent future injuries and illnesses.
According to OSHA, the 300 Log is not just a paperwork exercise or a way to look at past performance; it's part of a company's road map to finding and fixing hazards. Examples OSHA provides include:
Slip and fall injuries may indicate housekeeping-related hazards to correct or procedures to adjust;
Back injuries may show a need for lifting equipment or better training in safe lifting techniques;
A needlestick injury may point to a need to improve the needlestick prevention program or implement safer needle devices; and
A fall-related injury may indicate the need for improved fall protection or training.
Finding trends
OSHA recommends examining the Log regularly (at least annually) to look for trends. The Log records the types of injuries and illnesses that have occurred, how often they occur, and the specific process, activities, tasks, or equipment and materials involved.
The Agency says reviewing the Log to identify injuries and illness trends is a good first step in identifying hazards in the workplace and demonstrating management commitment to safety and health. Next steps include self-inspections, job hazard analyses, maintenance work order trends, and worker suggestions.
---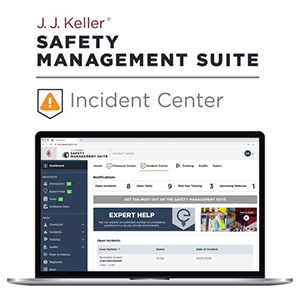 J. J. Keller's Incident Center helps you simplify your OSHA recordkeeping and analyze, report, manage, and prevent workplace incidents.
---
J. J. Keller's FREE Workplace SafetyClicks™ email newsletter brings quick-read workplace safety and compliance news right to your email box.