Heads up! New standard aims to prevent dropped objects
Posted July 19, 2018
Every year in the United States, thousands of workers are injured from being struck by falling objects. Specifically, the Bureau of Labor Statistics (BLS) shows that in 2016, 255 workers died and 47,920 were injured from being struck by objects such as hand tools, instruments, small parts, structural components, and many other items that are used at heights. The BLS reports that overall stuck-by injuries were up 8.7 percent from 2013 to 2014, and are projected to increase to 9.1 percent by the end of the year.
To address this serious safety problem, the International Safety Equipment Association (ISEA) and the American National Standards Institute (ANSI) developed the first industry standard to reduce the risk of dropped objects in industrial and occupational settings. The standard, ANSI/ISEA 121-2018, American National Standard for Dropped Object Prevention Solutions, sets the minimum design, performance, labeling, and testing requirements for tethering practices.
ISEA says it formed the Dropped Object Prevention Group, which included leading safety equipment manufacturers, to standardize solutions available to protect workers from objects dropped from heights. According to Nate Bohmbach, Chair of the group, the standard was developed "from scratch," and is not a revision of anything. "The standard kicks off a new generation of tethering practices," said Bohmbach. "A lot of people are tethering their tools and equipment using just duct tape and rope, which is pretty alarming, so this standard guides employers and workers toward safer, more reliable solutions."
The standard contains four active controls, which are:
Anchor attachments,
Tool attachments,
Tool tethers, and
Containers (buckets, pouches).
ISEA/ANSI 121-2018 is available online from ISEA.
---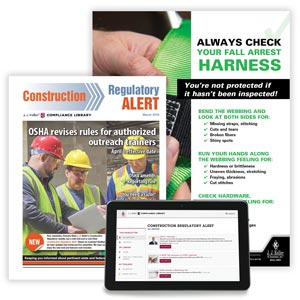 J. J. Keller® Construction Regulatory Update keeps you up-to-date with 1926 regulatory changes and new safety information.
---
J. J. Keller's FREE Workplace SafetyClicks™ email newsletter brings quick-read workplace safety and compliance news right to your email box.