White House says new Unified Agenda represents beginning of fundamental regulatory reform
Posted July 21, 2017
The White House released the 2017 Unified Agenda of Regulatory and Deregulatory Actions. The Office of Information and Regulations Affairs (OIRA) states that "this Agenda represents the beginning of fundamental regulatory reform and a reorientation toward reducing unnecessary regulatory burden on the American people."
According to OIRA, the new Agenda includes the following:
Agencies withdrew 469 actions proposed in the Fall 2016 Agenda;
Agencies reconsidered 391 active actions by reclassifying them as long-term (282) and inactive (109), to allow for further review;
The number of economically significant regulations is 50 percent less than Fall 2016; and
Agencies will post and make public their list of inactive rules.
Current OSHA Agenda items
Items at the prerule stage include:
Communication Tower Safety
Mechanical Power Presses Update
Powered Industrial Trucks
Lock-Out/Tag-Out Update
Blood Lead Level for Medical Removal
Items at the proposed rule stage include:
Occupational Exposure to Beryllium
Quantitative Fit Testing Protocol: Amendment to the Final Rule for Respiratory Protection
Crane Operator Qualification in Construction
Cranes and Derricks in Construction: Exemption Expansions for Railroad Roadway Work
Technical Corrections to 16 OSHA Standards
Puerto Rico State Plan
Improve Tracking of Workplace Injuries and Illnesses and
Tracking of Workplace Injuries and Illnesses
The only regulation listed at the final rule stage is the Standards Improvement Project IV.
According to the Agenda, OSHA plans to publish a proposed reconsideration of the Improve Tracking of Workplace Injuries and Illnesses final rule in October 2017.
Find the entire Agenda at www.reginfo.gov.
---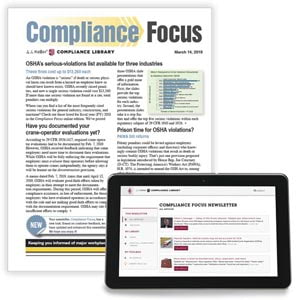 J. J. Keller's Compliance Focus helps you stay on top of critical regulatory developments from: DOT, OSHA, EPA, DOL, MSHA, EEOC, DHS and other agencies.
---
J. J. Keller's FREE Workplace SafetyClicks™ email newsletter brings quick-read workplace safety and compliance news right to your email box.